Dental Implants Procedure for One or Multiple Teeth
Replacing a Single Tooth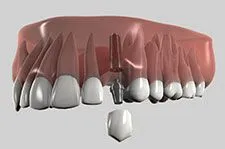 If you have lost a single tooth due to an accident, decay or gum disease, we can replace a single tooth using a dental implant. Dental implants have become the ideal treatment for replacement of missing teeth because they do not affect other surrounding healthy teeth. Unlike dental bridges and partials, dental implants do not rely on the adjacent teeth to support the missing tooth.
To replace a single tooth, we insert a dental implant into the site where the tooth is missing. The implant serves as a replacement root for the missing tooth, forming a solid anchor, and working like a healthy, natural tooth. A special attachment called an "abutment" is then connected to the implant, and a replacement tooth is placed on top of the abutment. When this procedure is completed, your permanent tooth will look and function just like a natural tooth.
Please refer to "Timeline for Dental Implant" for additional information.
Replacing Multiple Teeth
After many years of use, our teeth get worn down, chipped, cracked, or lost due to physical injury, decay or gum disease. Even people with good dental hygiene may face dental problems as they age. Many medications patients take for their health cause a dry mouth which leads to tooth loss. Missing multiple teeth not only has an adverse effect on how you look, feel and chew; it can also be detrimental to your general health.
Dental implants are the ideal treatment for missing teeth because unlike partials, dental implants do not rely on the adjacent teeth for support. Partials place stress on the adjacent teeth leading them to fail. Partials require a metal or plastic framework that covers the roof of your mouth or runs along the inside of your lower teeth. And because implants are fixed in place, there is no need to worry about loose and uncomfortable partials.
To replace multiple teeth, dental implants are placed directly into the jawbone. The implants form solid anchors, much like healthy, natural tooth roots, and help maintain healthy bone density. Special attachments called "abutments" are then connected to the implants, and replacement teeth are placed on top of the abutments.
Our patients who have received multiple dental implants have shared the following:
they look better
feel better
have more confidence
enjoy smiling again and;
can eat the foods they love
More Information